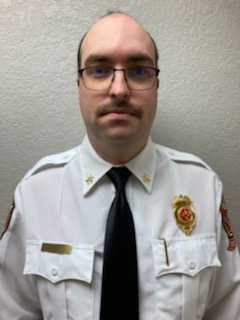 Andrew Burnette
EMS Division Chief

Chief Andrew Burnette has served with Gilmer County Fire Rescue for 9 years. A 15 year veteran of the fire service, Chief Burnette is responsible for the EMS Division. In that position, he is responsible for ordering and procurement of supplies and medications, QA/QC of medical reports, and coordinating with the department's medical billing company. 
Chief Burnette completed EMT school at the age of 18 and joined his local volunteer fire department while still in high school. Just three days after completing high school, he found himself at the Georgia Public Safety Training Center where he obtained his Basic Firefighter Certification. After being hired with GCFR, he attended Paramedic school. He has previously served as a Lieutenant for 7 years prior to being promoted to Division Chief.
He also is a Rope Rescue Technician, Water Rescue Technician, Open Water Diver, Wildland Firefighter, and is a Wilderness Search and Rescue Instructor.
Chief Burnette comes from a family of public servants. He and his wife Cianna are the proud parents of 5 boys.