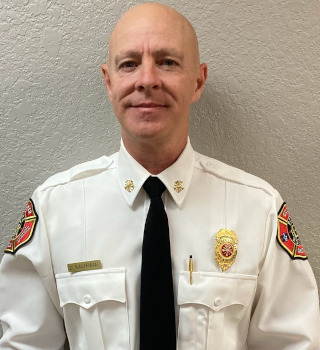 Daniel Kauffman
Fire Chief
Chief Daniel Kauffman has served as Gilmer County Fire and Rescue's Fire Chief for 3 years.  As Fire Chief, he is responsible for the direction and overall leadership of the Department. In this role, he spends most of his time advocating for our personnel and for the Department as a whole. Chief also is responsible for the budget process in which he ensures fair compensation for personnel, that equipment is safe and modern by today's standards, and that we have a positive environment to develop future leaders. He has overseen the creation of the Company Officer Development Academy in which we seek to better prepare future Lieutenants for the promotional process.
A 34 year veteran of the fire service, Chief Kauffman came to us from Florida. His career began right out of high school, when he attended Florida State Fire College and the College of Central Florida. Chief had a brief period as a volunteer firefighter before accepting his first full time position with Marion County Fire Rescue in 1988. During his tenure in Florida, he eventually promoted to Battalion Chief and Shift Commander. Chief Kauffman also served as the leader of 1 of 16 of Florida's HazMat teams. He has spent much of his career focused on leadership and employee development and was active in Special Operations Teams and HazMat Response throughout his career.
Chief Kauffman has an A.S. Degree in Environmental Science from the College of Central Florida, a B.S. in Fire Science from Columbia Southern University, and an MBA with a major in Human Resources Management from Saint Leo University. He is currently pursuing the Chief Fire Officer designation through the Center of Public Safety Excellence.
When not working, Chief Daniel Kauffman spends his time with his wife Stephanie and their rescue dog Piper. They enjoy traveling with their RV to explore new places and enjoying the outdoors. They enjoy visiting many of Georgia's State Parks. Chief and his wife have a blended family of 3 girls whom are all attending college in Florida.